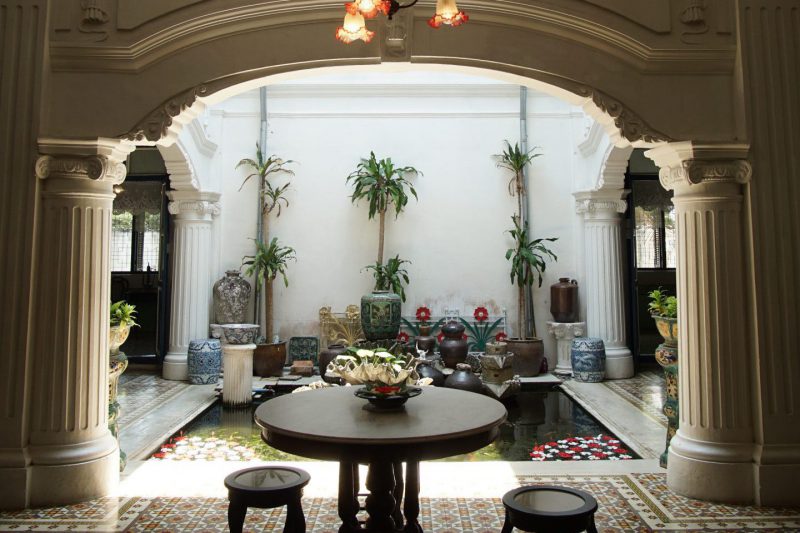 The influence of Peranakan culture is one the biggest cultural charms to be discovered on Phuket. The province was once a destination for numerous immigrant Chinese who married with locals and merged their cultures into a harmonious blend, even incorporating some of the Western influences which had started to seep through. Even though the heart of Peranakan culture is still Singapore and Malaysia, the southern region of Thailand is rich with multiculturalism and Peranakan culture is most prominent in Phuket. Whether it's Peranakan cuisine or architecture you would like to delve into, there are a number of places to experience them on Phuket. There are, however, two very elegant Peranakan manors that are eminent and not-to-be-missed. Baan Ar-Jor HISTORY: The three-storey mansion was built by Chinese tin-mining businessman Tan Jin Nugn in 1936. He was not only a successful entrepreneur, but a man who lived a compelling life. The house remained intact throughout decades of its occupants' trials and tribulations, was abandoned for some more decades, and then thankfully revived by the original owner's great-grandsons in more recent times. They have turned the mansion into a living museum that showcases rare collectibles and unveils the rich story of the family. The mansion-turned-museum's name comes from the word 'Ar-Jor', which means 'great-grandparent'. STYLE: Peranakan architecture with a nostalgic ambience and décor, surrounded by tranquil greenery. HIGHLIGHTS: The mansion is home to Michelin-recommended Toh-Daeng Restaurant, which serves authentic Phuket dishes made from the family's recipes which have been passed down for generations. All proceeds from the entrance fee (THB 200 per person) will be given to Baan Mai Khao School to support educational purposes. Artwork by the young students of Baan Mai Khao School are displayed at the museum, delightful to see and heart-touching. The mansion is also a homestay, so you can enjoy a very unique stay on the island. LOCATION: A few minutes' walk from Mai Khao Beach. WEBSITE: www.baanarjor.com Baan Chinpracha HISTORY: The manor was built during the reign of King Rama V by Phra Pitak Chinpracha, a prosperous tin-mining businessman who was also a philanthropist. He lived in Malaysia prior to settling down in Phuket, and brought many Peranakan and Western influences with him, such as Western-style furniture imported from British Malaya (present-day Malaysia). The manor is considered to be the most beautiful and well-preserved Sino-Portuguese building in Phuket, and the descendants of the original owner still live here. STYLE: A Melaka-inspired Peranakan manor with luxurious architectural details. The architecture lets plenty of natural light in, since the house was built when there was no electricity available. The building was constructed with a traditional version of cement that allows breathability, and the pond in the centre framed by an arch not only acts as a visual delight but also serves to collect rainwater. There are more architectural details to amaze visitors, which they can learn about during their visit. HIGHLIGHTS: The kitchen preserves its original look and functions, and displays rarely-seen kitchen ware. Numerous antiques, collected for over a century, are showcased alongside a collection of intriguing vintage photos.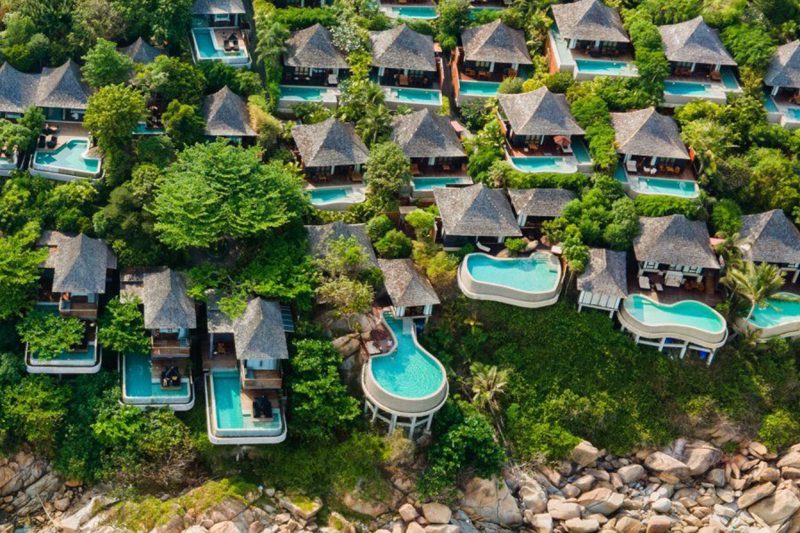 Sitting elegantly on the cliff facing the sparkling Gulf of Thailand, 'Silavadee Pool Spa Resort' celebrates the 15th anniversary of its excellence. Housing one of the greatest views in Koh Samui, Silavadee Pool Spa resort is known as a leading luxury resort on the island and has revealed 'The New Chapters of Luxury: – S.E.A' strategy as part of its celebration and to add a new dimension to and redefine luxury as 'S' for Sustainability, 'E' for Experience and 'A' for Activity. As a tribute to the remarkable milestone, the resort held commemorative activities in which guests also participated, including an almsgiving ceremony for nine Buddhist monks and a release of turtles into the sea. Guests also get to experience the commemorative cocktail 'Sila 15th' and a seven-course fine-dining meal so they can appreciate the Southern Thai culture through food, for which the resort is well-known for its restaurant with authentic and refined Southern Thai cuisine. Chonlada Soonthonvasu, Silavadee Pool Spa Resort's managing director, said, "For the past 15 years, Silavadee Pool Spa Resort has been recognised and lauded by Thai and foreign guests as a superb resort with great service, a beautiful location, and unique natural surroundings. These factors motivate us to improve our service level and deliver a higher kind of luxury, and we believe that our 'New Chapters of Luxury – S.E.A' strategy will guide us to create a truly relaxing experience for guests and help push Samui tourism." To celebrate the 15th anniversary of Silavadee Pool Spa Resort, guests can enjoy exclusive experiences and privileges until the end of 2023. They can enjoy the specially crafted cocktail Sila 15th, which is made from 15-year-old whisky and local tropical fruits such as coconut, with smooth sips at the rooftop bar Star, as well as make an epicurean journey through an exclusive fine-dining seven-course menu created from local ingredients to embody southern Thai culture. It's affordably priced at 1,800 baht per person and available at The Height. Last but not least is the 'Silavadee 15th Anniversary' package, which offers a 45% discount from the Flexi promotion along with 1,500 baht of resort credit per stay. The offer stands until the end of 2023, so guests can experience 'The New Chapters of Luxury' and celebrate the anniversary with Silavadee. Cheers to the 15th year of excellence, and we wish many more to come. Silavadee Pool Spa Resort call 077 960 555 email reservations@silavadeeresort.com www.silavadeeresort.com Facebook: @silavadeeresort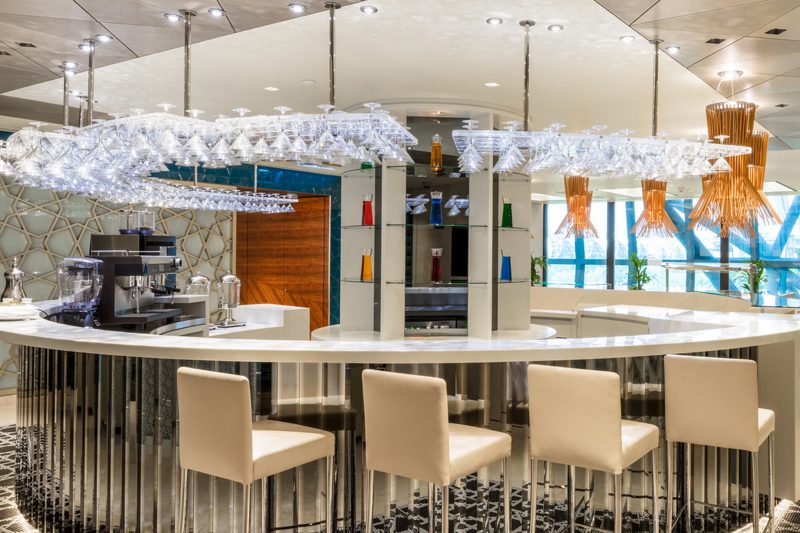 Bangkok is now at its best to give a warm welcome back to the travel industry, and it's pleased to have one of the world's best airlines reopen its Premium Lounge door once again. Qatar Airways and oneworld passengers travelling in First and Business Class departing from Suvarnabhumi Airport in Bangkok can now enjoy their journey either prior to boarding or during transit at the newly reopened outlet. Inaugurated in February 2018, the Qatar Airways Premium Lounge in Bangkok takes inspiration from modern Arabian design and Thai hospitality, where passengers are welcomed into an oasis of tranquility. Apart from the sight of the airport's extensive manicured garden, there are also dedicated facilities allowing passengers to be revitalized, and the spacious showers are also available for rejuvenation with selections of exclusive amenities crafted by the renowned French perfumer, Diptyque. Dining is also extensive, with two dining areas: The Brasserie, which offers a more formal dining experience with an à la carte menu of international cuisines, and The Global Deli, which offers a more relaxed buffet style dining. The buffet features a selection of hot and cold dishes with an appealing appetiser selection of some of the renowned Arabic classics, including tabbouleh, hummus, and muhamara. Everything has been meticulously prepared and is ready for your return.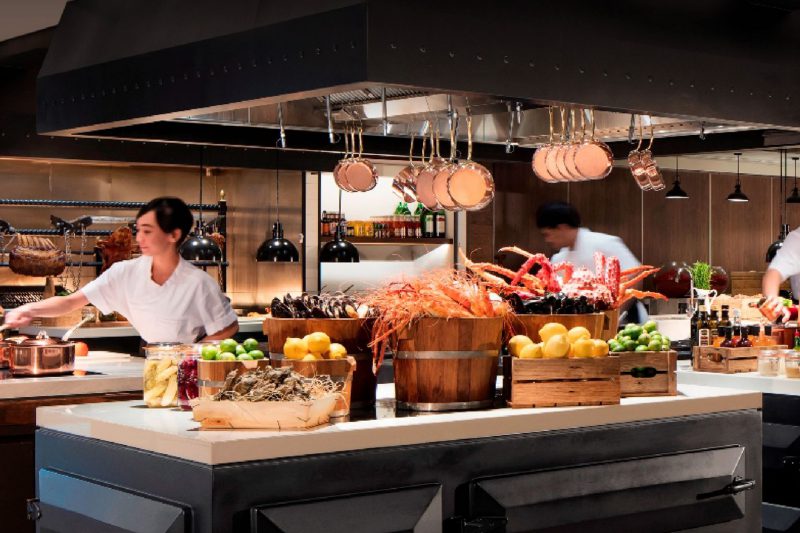 Goji Kitchen+Bar, the vibrant international culinary marketplace at Bangkok Marriott Marquis Queen's Park, is celebrating Lunar New Year in style this January with a variety of traditional Chinese dishes as part of its international buffets and brunches, to help all diners hop into the "Year of the Rabbit." From 20th – 22nd January 2023 Hotel guests and local residents are invited to come together with their family and friends to celebrate the arrival of the "Year of the Rabbit" with a selection of handcrafted dim sum, including ha gao, sui mai, and barbecued pork buns, savor a selection of soups including fish maw soup, Sichuan hot & sour seafood soup, and bamboo pith soup, or discover delicious main dishes such as steamed black grouper with soy sauce, steamed scallops with garlic & vermicelli, steamed garlic butterfly prawns, and Chinese drunken chicken. A dedicated BBQ Station will showcase suckling pig, char-sui pork, roasted duck (Saturday Lunch only) and Peking duck (Sunday Brunch only). Then on the Lunar New Year's Day during brunch (Sunday 22nd January 2023), Chef Oscar Pun will bring a special trolley to each table, piled high with "Salmon Yu Sheng" – a special Spring Festival delicacy that traditionally should be tossed in the air with chopsticks – and a special Chinese dessert! All other international buffet stations and dishes will be available, including an array of fresh seafood on ice, handcrafted sushi, and sashimi, a salad bar, roasted premium meats, sweet treats and more.Goji Kitchen+Bar's Lunar New Year Menu will be available for lunch and dinner from 20th to 22nd of January 2023, details as follows: Friday - Sunday Dinner (17.30-22.00 hrs.): THB 2,299++ per person  Saturday Lunch (12.00-14.30 hrs.): THB 2,299++ per person Sunday Brunch (12.00-14.30 hrs.): THB 2,600++ per person Marriott Bonvoy and Club Marriott discounts apply. For more information and to celebrate the Spring Festival with your loved ones, please call 02 059 5999 email restaurant-reservations.bkkqp@marriotthotels.com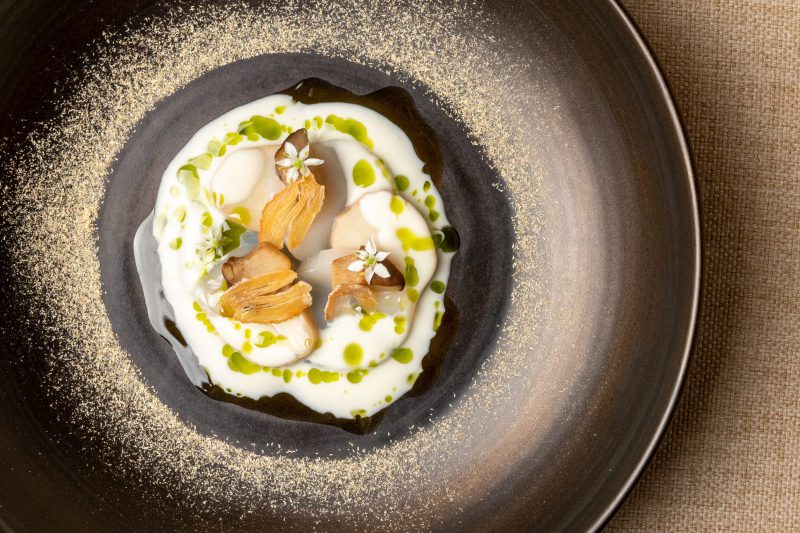 MICHELIN-Starred restaurant Elements, inspired by Ciel Bleu at The Okura Prestige Bangkok invites you to experience its new 'Autumn Guestronomic Dining Journey', featuring an array of autumn-inspired fares created by Chef Gerard Villaret Horcajo and his team. As lush green leaves turn red, orange, and brown, the weather gets cooler, yet the ambience gets warmer and comforting. Chef Gerard's autumn offerings are, therefore, characterised by herbs, spices and hearty ingredients, at the side of lighter touches to classic French cuisine and exquisite premium seasonal produce from Japan. Always seeking to be playful and bold, he often uses tow sauces in a dish so as to provide complex flavour range and contrasts. Warm, tangy and full of a inspiring seasonal essence, highlights of the autumn menu includes succulent 'chutoro' with marbled Kombu, daikon and hijiki; 'Hokkaido scallop' with eryngii (oyster mushroom), sherry and scallop-bushi (cured, cold smoked and dried scallop); 'canard en croute de sel – on the bone' with togarashi (Japanese mixed chilli and spices), confit Cannellonis, and foie gras; 'A5 Miyagi wagyu – Baba' with Pommes Dauphine, shallot and umeboshi; and signature 'binchotan' with Japanese whisky, citrus and milk chocolate. The 'Autumn Guestronomic Set Journey' is available from 23 September 2022, from 18:00 to 22:30, with prices starting from THB 4,800++ per person. For more information and reservations, please call +66 (0) 2 687 9000 or email elements@okurabangkok.com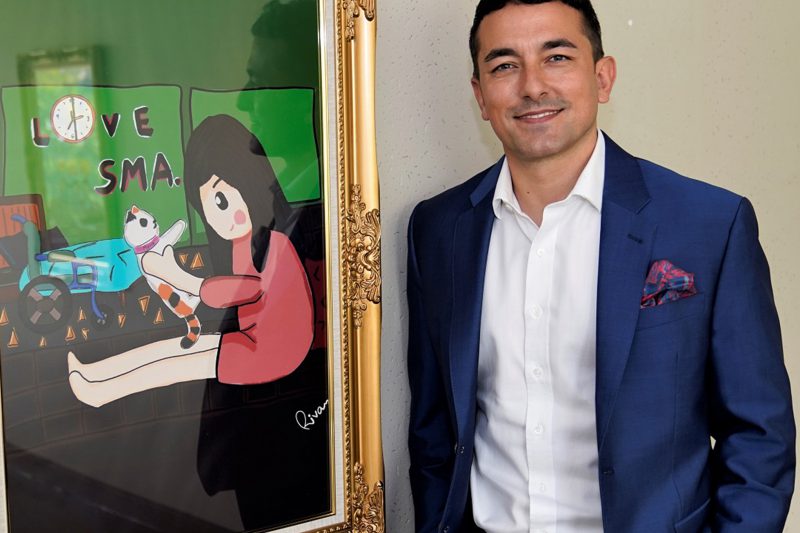 After a successful charity dinner in 2022, the 'Rare & Share' project, initiated by Roche Thailand, joined forces with the Foundation to Eradicate Neuromuscular Disease (FEND) in order to support and improve the quality of life for rare disease patients in Thailand, of which the proceeds will be donated to help patients with spinal muscular atrophy (SMA). What makes it unique this year is the collaboration with two renowned leading chefs, Chef Christian Martina of CLARA, who was recently named the 23rd best Italian restaurant in the world by 50 TOP ITALY 2022, and Chef Amerigo Sesti of J'AIME, who received a Michelin star, to help create a special set course full of interpretations into dishes with full flavours as well as raise awareness about the rare disease. The story of this well-curated course is definitely something to talk about; the idea behind each of the tantalizing creations is touching, as the 6-courses dinner is a rendition of real-life challenges experienced by SMA patients and their caretakers. One of the courses requires more than 24 hours of cooking time, symbolizing the 24 hours of care required for SMA patients, and the exaggerated cutlery was used as a secret gimmick to depict the difficulty of caring for the patient on a daily basis. The charity meals are available throughout February – May 2023, on the following dates: ● Tuesday, February 28, 2023 (18.00–20.00 hrs.) at J'AIME Restaurant. ● Sunday, March 26, 2023 (18.00–20.00 hrs.) at CLARA restaurant ● Tuesday, April 25, 2023 (18.00–20.00) at J'AIME restaurant. ● Sunday, May 28, 2023 (18.00–20.00 hrs.) at CLARA restaurant For reservations and more information, J'AIME Restaurant (email: reserve@jaime-bangkok.com) or call +66 2 1194899 CLARA Restaurant (email: clara@clarabangkok.com) or call +66 2 3496 3663.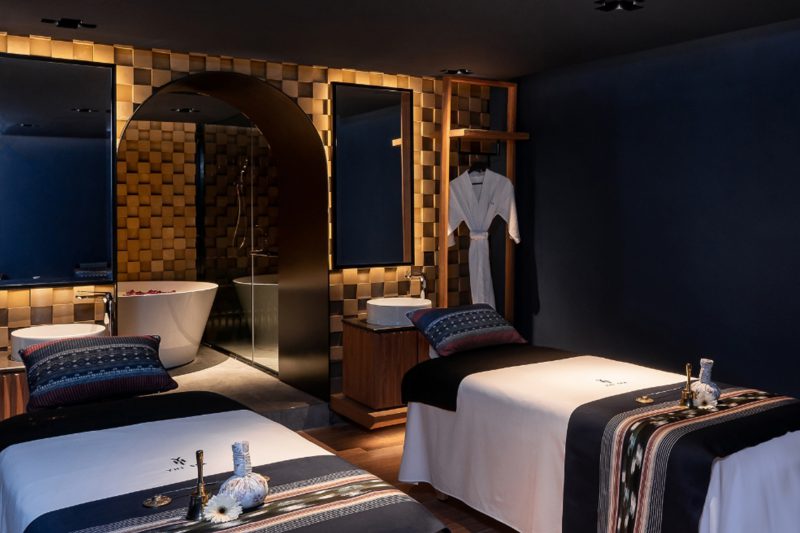 There is always a good reason to go to the spa. It is not only about making time for yourself to relax your body and mind, but also about discovering a new scene and experiencing a new spa treatment created with local wisdom and a touch of modern wellness techniques. 1. This newly opened spa in Chiang Mai is the third outlet after a successful launch in Koh Samui and Phuket. 2. The 'YHI' was inspired by the goddess YHI, responsible for life and light and personified by the sun for the Karraur First Nations people in Australia. 3. The conceptual treatment at YHI Spa is derived from ancient Asian healing wisdom combined with modern wellness techniques. 4. Its extensive spa menu includes massages, body scrubs and wraps, hydrotherapy facials, manicures and pedicures, and more. 5. The seven treatment rooms are spacious and designed with an underwater theme, with a touch of a Thai herbal sauna and steam. 6. The signature spa menu here is the 90-minute treatment that combines an ancient Northern Thai massage (Tok Sen) with a Spanish massage aimed at relaxing muscles and providing fatigue relief. 7. YHI Spa pays homage to Thailand with designated massage treatments such as "Traditional Thai," which focuses on the body's pressure points, and "Thai Lanna," which uses a Thai herbal ball. 8. "Kid Therapy" is a 45- or 60-minute treatment for children aged six to twelve years that aims to prevent hyperactivity. 9. YHI Spa uses products from HARNN, an organic Thai wellness brand. Their products are known for their natural ingredients and the wisdom of Thai artisans.
Designed for travellers of younger generations, Ying'nFlo, an upper midscale hospitality brand capturing the dashing spirit of of Millennials and GenZ excursionists, has been officially launched in Wanchai, Hong Kong, marking Langham's Hospitality Group's 20th anniversary, with more hotels in various cities in its roadmap. Ying'nFlo is designed as a place which feels like a friend's apartment, but better, with spaces that invites people to connect and recreate in style, focusing on state-of-the-art design, arts and music, as well as facilities that brilliantly meet the needs of young travellers. Brett Butcher, Chief Executive Officer, Langham Hospitality Group said "Ying'nFlo is a bold colourful canvas for the younger urban travellers, at an affordable price. It's a smart guest experience for a generation that has grown up with digital. The concept combines simple stylish design with brilliant basics which are efficiently executed with a strong social vibe." "We will locate Ying'nFlo in destinations where our guests want to travel. These locations would be the front door to cultural, entertainment and tech hub districts," he added. "There is a strong opportunity to grow Ying'nFlo in Asia-Pacific and beyond where 50% of the population are millennials or GenZers." For more information on the Ying'nFlo (Hong Kong), visit yingnflo.com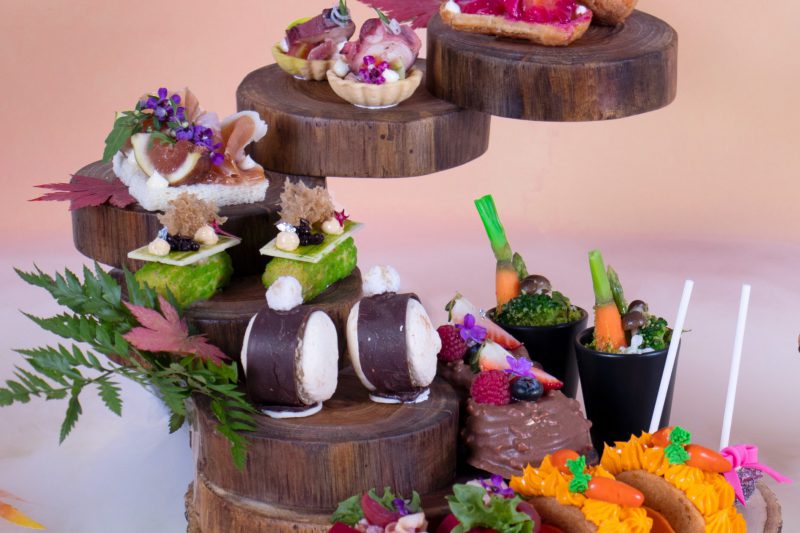 The St. Regis Bangkok has recently unveiled its new afternoon tea experience, the 'Autumn Afternoon Tea', featuring tempting savouries and sweet treats made with seasonal ingredients at the side of the classics, reflecting the earthy shades of the season. The Autumn Afternoon Tea set includes specials like Pistachio Éclair and Raspberry Pate de Fruit; as well as Red Velvet Bread; Smoked Duck and Berries Sauce; Octopus and Heirloom Tomatoes; Beetroot and Mustard Marinated Salmon on Éclair/ and Organic Root Vegetable, Hummus; Green Olive Crumb; chocolate indulgences; and more. The afternoon tea experience is priced at THB 1,800++ per set including tea or coffee for two persons, served from 14:00 to 17:00, available until 20 November 2022 at The St. Regis Bar and The Drawing Room. Reserve your seats at +66 (0) 2207 7777 or fb.bangkok@stregis.com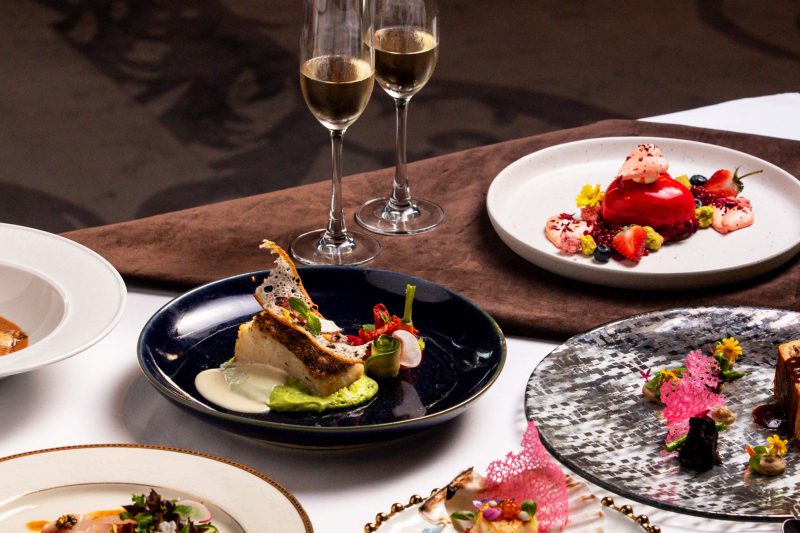 At @stregisbangkok, the spectacular VIU restaurant has a specially curated 5-course set menu for Valentine's Day that you can spoil yourself and a loved one with and tick every taste box imaginable. Opening with the Amuse Bouche of Pan-Seared Sea Scallops before floating along to the fresh taste of the Yellow King Fish Ceviche and Caviar with a Beetroot Lemon Dressing that brings a wonderful zest to the freshness of the fish, and this, closely followed by the pre-main soup of Poached Langoustine with Lobster Cream with Truffle Foam that has the most warming aroma. For the main course, you will choose between a beautifully soft Beef Wellington, the ever-delicious Australian Wagyu cased in a puff pastry that is cooked with a touch of excellence and just melts in your mouth perfectly, or the freshly Baked Snow Fish with a creamy brandy lemon sauce that brings a delicate citrus flavour to the tenderness of the Snow Fish. Dessert brings this 5-course feast to an elegant and loving close with the heart-shaped Rose Bavarois, which is executed to creamy and fruitful perfection. The Champagne Jelly Sable Breton is the finishing touch that this exquisite dessert truly deserves. This Valentine's Day, VIU is serving one of the finest menus in the city, and with stunning views and a calming atmosphere, it is the ideal setting for romance.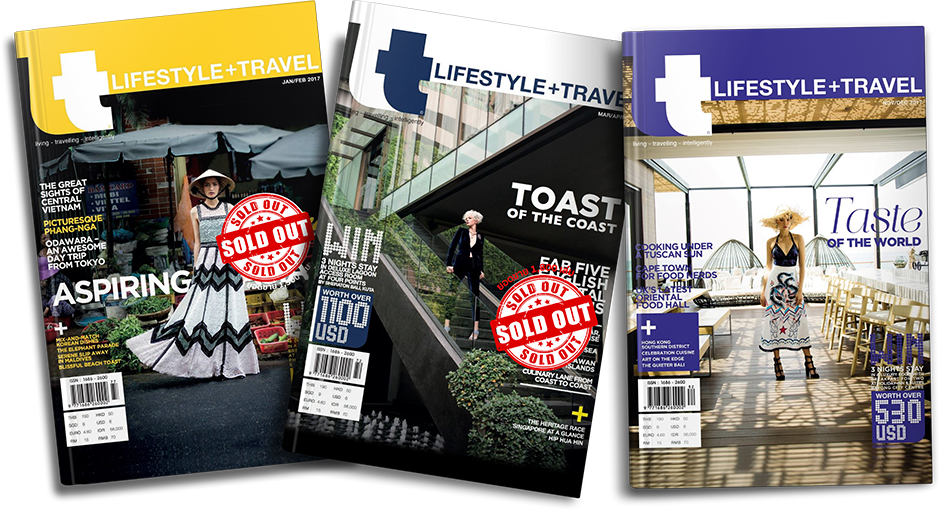 6 ISSUES FOR USD58!
Subscribe now and get your favourite magazine delivered anywhere in the world for this special price
Delivering the latest in style, inspiration, helpful tips and tricks for your next epic escape!